Press Biography
First, An Epic Design School Experience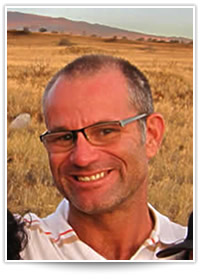 Then Photoshop was invented. Like finding a key to a digital future. I worked until my eyes bled for what seemed to be months at a time. Then Netscape opened my digital world. I learned how to do things and the "a-ha" moments lead to teaching. Most were in the Apple Marketing Center classroom in Boston. Some at large campuses like Nike. Others in board rooms at Macromedia / Adobe, Apple, KPMG, NeXT etc. I catered to companies with access to a half-pipe, snow-park or a good surf break. Others attended presentations at Universities and progressive schools in New England. Many attended technical presentations at large national and international conferences like Comdex. Still more for the World Organization of Webmasters and the World Wide Web Consortium. Listening to an emerging need for a more natural design was perhaps inevitable.
September 10th, 2001 waking up in Hawaii, again.
After more than ten years of trying to work my way back to Hawaii. Web browsers brought new inspiration and opportunity. Everything changed again and a more natural aesthetic from the forest, began to unfold.
Hawaii is Best Served with Patience, Aloha and Gratitude.
Supporting mostly small to medium-sized organizations and business owners over the last 15 years has been rewarding beyond words. Two things in particular are memorable and shaped my current design aesthetic.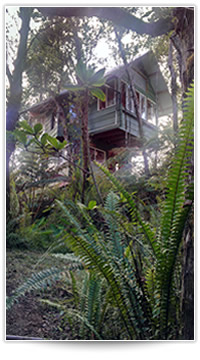 The relationships we build in Hawaii are more meaningful and valuable than the project creation. Learning to design with nature has prepared me for high-purpose teamwork. Authentic emotional designs must include profit-driven results. Insights into the convergence of nano tech, biology and digital are valuable to understand the quickening pace of change. Happiness for me requires serving my own desires for Hawaii in a an approach that includes measurable results.
"How important is a constant intercourse with nature and the contemplation of natural phenomena to the preservation of moral and intellectual health! The discipline of the schools or of business can never impart such serenity to the mind." -Thoreau, May 6th 1851
Re-imagining sustainable living practices through conscious designs, creating positive impacts for clients with elevated awareness, permeates all I enjoy.

Living lightly on the land, vipassana, yoga, agriforestry and harmonizing with the trees is time well spent. Honoring local culture, expressing gratitude and loving kindness are aspirations along my path. Applying ancient methodologies and modern technologies in everyday life inspires me towards better natural designs.
Looking forward to mentoring and learning with other like-minded designers around the world.
Are you a conscious startup or a successful brand with an authentic intention to serve people and the planet? Let's Connect!
---
Our clients are the best.

"…volunteers through student mentoring and serves on the Hawaii Island Junior Achievement Board of Directors."
"…earned the Webmaster of the Year award in 2009 from his peers at webprofessionals.org."
"As Co-Founder of Green Collar Technologies he earned the Small Business Administration's "Home Based Business Champion of the Year (3:30)" for the State of Hawaii."