A free tool that has become comprehensive enough for enterprise users and and easy enough for small business owners. We love the automated reports, short easy to read and understand -yummy. When used with Google Search Console and Google AdWords/AdSense these apps share and exchange information.
We centralize this information into WordPress dashboards to empower our managed services clients.  It's as easy as customizing a few dashboards and plugins. It works right now on your phone and provides information like you'll find in this case study.
Digital Conversion Thereapy
For years we've asked our clients to focus on their website dashboards. But there are just too many. Each requires a separate login and for many clients it's just too time consuming. Data just seems to pop-up randomly from marketing campaigns like email (permission-based marketing), social media (Facebook Insights) and offline marketing. It's too much for a small business owner.
Most local clients do not have weekly multi-discinplinary meetings with a discussion on website sales and marketing. Budgets are relatively small and meetings can be expensive. This changes as awareness and opportunities arise. Centralizing dashboards puts this information in front of the decision makers with a secure login. Adoption is slow but this has been working for more than a year on our client's dashboards. It's just not enough any longer.
It's critical now to focus on the relationship between sales and marketing data. You need all the facts in one location. You need the data to be actionable, easy to read and understand, at a glance.
"At the end of the day, 58% of smartphone users are more likely to buy from companies whose mobile sites or apps allow them to make purchases quickly." -Google/Ipsos, "Consumers in the Micro-Moment," Wave 3, U.S., n=1291 online smartphone users 18+, August 2015
Marketing metrics are great. But revenue in a bank ledger attributable to your campaigns demonstrates conversions. Lead acquisition and conversion costs is the real opportunity.
To help customers focus on sales and ROI we're doing two things;
We're focusing on helping customers stay connected to their metrics. One result is an improved dashboard experience with more business intelligence.
We're focusing on a mobile-first strategy in all our thinking and doing. From customer acquisition to money in the bank, we're focused on factsfrom mobile data. This means you only pay for the campaigns that create a return for your marketing dollars.
With mobile usage dominating your customers view of your online business it's time we better understand your customer's interaction with your brand. Not just visual appeal or usability. The features we need now are location-based and real-time. The question is no longer, "Does my prospect have access to my message?" The question has become, "Is my message available now to my propsects near me?"
As you can envision from this 2014 report, mobile prospects are just as available and connected as desktops. There's a need to prepare for your prospects and customers using mobile devices. Equally important is the need to adjust your seo strategy. Why? Because mobile users can be more easily converted to sales when the customer is near.
Mobile users need your help to see your message and find your business. Google calls this, "Near me" searches. We consider this valuable in our local digital landscape. In Hawaii, your customers may have no idea where you are or what you do. But they do know what they're looking for and Google provides an easy way to locate what they need. You just have to make some changes to a few things you're already doing.
Your web pages are ready when the following conditions are present:
Your messaging is easy to read and understand. Imagine driving and finding your store. Okay wait, let's imagine walking to find your store. your prospect has a lot going on. Whether holding an umbrella or trying to listen to a friend, it's critical to have easy to read and understand content on your page.
Directions are abundant, work correctly and are easy to click and find. Google makes this really easy with Google Local. We suggest blending the best of Google Local and your own web page to present your prospect with timely and accurate information about your location.
Your pages load quickly. Visitors are much more likely to leave your site and try another search result on mobile. They may be using an "Okay Google" command or in a rush for an answer. For "near me" searches we recommend an optimized and fast loading landing page compatiable with all mobile devices.
All other web design best practices apply. In addition to Google's Webmaster Guidelines, mobile design guidelines also apply including creative. To achieve a return on your investment, focus on mobile design.
With all of these conditions present a mobile prospect can be converted into a warm lead. To convert warm and hot leads into sales, additional steps must be included. If you don't have any products for sale on your website we can help.
With at least one product for sale online, you can create new metrics. Sales data from your website can inform your larger business strategy. With this information you can make better decisions about cost-savings and future revenue opportunities.
"The most innovative brands have marketing, digital, media, and agency teams all sitting together at the start of the campaign to define objectives, brainstorm on insights, process data, and create the right strategy to reach brand goals." – Google
Small business owners don't have "agency teams." Our local clients need one or two people to fill critical roles in their growth. They need someone they can trust to deliver a return on their investment.
Read Our Case Study: Assessing A Mobile-First Strategy for Local Clients
Does your marketing team consider mobile first? Do they have the knowledge skills and technical abilities to provide the facts you need to track your mobile strategy? Do you have the in-house creative design skills to create content for a mobile-first strategy? 
Can you outsource these roles more affordably than hiring a part time employee.  Here's some help evaluating if you should outsource or insource your next project.  Here's some help understanding the opportunities of offshoring some of your project work.
Have any questions?
[contact-form-7 id="25081″ title="Contact form 1″]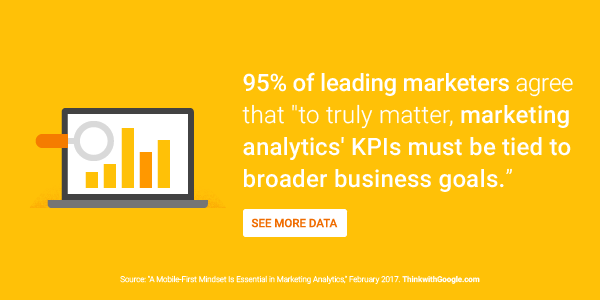 KPI = Key Performance Indicator – Wikipedia
USING DATA TO ASSESS YOUR MOBILE FRIENDLINESS
Don't let a bad mobile shopping experience get between your customers and that last minute purchase.  –Inspired by Data
---