Make Informed Business Decisions. Know how many visitors you have, where they come from and which pages they visit.
$150.00 One-time Fee gets you a weekly email with all your key statistics.
If you are looking for the best tool to monitor your website traffic, this is the right service for you. Discover your best referrals, keywords, top content and mobile penetration to increase your traffic and make informed business decisions.
This report helps you understand;
Who is giving you traffic referrals so you can care for these links.
Which pages on your site are getting the most traffic so you can identify what's working and what's not working on your site.
What devices your visitors are using so you can target mobile vs. desktop visitors. This ensures you're spending money on the right ads and mediums.
How many visitors are on your website in real time. You can check to see if your latest email or promotion is working.
A customized report is emailed to you in a PDF every Monday morning with an detailed analysis or your website traffic.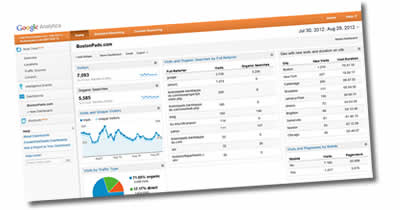 Additional analytics customizations such as goal setting, sales funnels and Adwords campaign measurement available for an extra fee.
Also See:
Google Webmaster Tools aka Search Console Setup