ROI Strategy – Webmaster Guidelines
When Google first released their Webmaster Guidelines we made a pivotal decision. We didn't know the impact of such a decision at the time. While other companies were banking on cheating on search results we stay focused on web standards and doing things the right way. We researched and interviewed folks at the W3C and Web Standards projects to correlate Google's intentions. More than 10 years later our decision has benefitted hundreds of website owners in ways we couldn't have imagined. None of our clients have been penalized by Google but they have benefitted from each Google Algorithm Updates.
Google's Guidelines for Website Design 2017 Update
Since the original Google Webmaster Guidelines were released we've followed their recommendations. The results have been very consistent with high ranking pages in search results for all our clients. We continue our efforts to build websites based on Web Standards. We use Open Source platforms to reduce the costs of future development. Using WordPress for your content management system assures we're in compliance with guidelines and using the most popular platform for building websites.
"There are many ways to make a presence on the web and a website is just one of them. Other types of web presence include social media channels and sites that allow customers to review your business. Before you start making a website, make sure you understand what's provided by the different types of web presence and the costs and benefits associated with each type." –Google Developers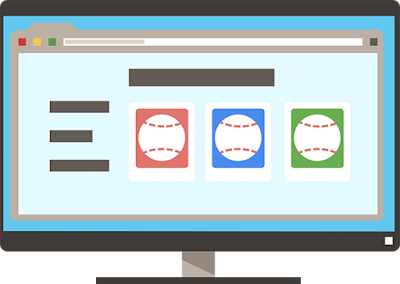 Are you providing a consistent look and feel for your visitors across channels. We create comfort in the minds of your visitors. Consistency in colors, fonts, images and brand messaging smooths the sales process experience.  Everything is familiar as your prospects move between your presences on social networks, lead collection forms, emails and online searches. In this way your prospects will develop trust with your brand and interact with your lead collection forms.
Need a new domain name? We can help you choose a domain name that is:
Descriptive: Think about the name of your company and the content you'll put on your site. The domain name is one of the first things people notice about a site so it should provide a good idea what your site's about at a glance.
Easy to remember: Keep the domain name short and simple. If it's long and complicated, it'll be hard for people to remember.
Adaptable: A domain name is likely be tied to your site for a long time so choose one that will work if your site's content changes over time. If Brandon eventually plans to include other collectibles, brandonscollectibles.com would be a better domain name than brandonsbaseballcards.com.
Note: We use Google Domains. If you have a Godaddy account or if it's easier for you to purchase through another domain provider, that's great. We'll help with the setup and send you a reminder when your domain name is up for renewal. We recommend purchasing your domain name for at least two years, five years is better.
With a domain name purchased and setup we can setup your website hosting. We use a Single Hop data center to serve your pages. The tools we have installed on the server increase our efficiency and reduce your costs. We can help you evaluate your existing hosting provider and provide alternates if helpful to your online business goals.
What to look for in a web host:
Uptime: Uptime is the amount of time servers belonging to your hosting provider are up and running. Any hosting provider can go down sometimes but you want to find a provider with very little downtime so visitors can almost always see your website.
Bandwidth: Bandwidth shows how much data your site can send to the rest of the internet and determines how much traffic your site can support. Some hosting providers limit the bandwidth available to your website while others allow unlimited access.
Security: Familiarize yourself with safeguards the hosting provider sets in place to protect your site from external vulnerabilities. Understand if support will be offered when a security issue arises, such as if your site is hacked or infected by malware.
Customer support: If something goes wrong with your site, you'll want good customer support to resolve any issues quickly.
Price: Hosting providers charge a wide range of prices; some are even free. You need to balance how much you're willing to pay with the services you'll receive in return.
Ease of use: Make sure the user platform is intuitive and easy to use for your needs. If you're creating a site yourself, is it easy to get started or do you need to have advanced setup knowledge?
Additional services and features: Make sure the hosting provider offers the things your website may need, such as email accounts.
Our Fully Managed WordPress hosting and Marketing plans cover all of these points. We also include publishing fresh, optimized content on a monthly basis. We share this content across your social networks. Email for up to five addresses is included.
Basic principles of Good Web Design
We will make pages primarily for users, not for search engines.
We will not deceive your users in any way.
We will not use tricks intended to improve search engine rankings. A good rule of thumb is whether you'd feel comfortable explaining what you've done to a to a Google employee. Another useful test is to ask, "Does this help my users? Would I do this if search engines didn't exist?"
Think about what makes your website unique, valuable, or engaging. We'll make your website stand out from others in your field.
Specific Guidelines for Good Web Design
Avoid the following:
Follow good practices like these:
Monitoring your site for hacking and removing hacked content as soon as it appears
Preventing and removing user-generated spam on your site
If your site violates one or more of these guidelines, then Google may take manual action against it. Once you have remedied the problem, you can submit your site for reconsideration. This often takes a lot of time and can harm your domain for years. On average 50% of website traffic comes from search engines. It can be devastating to any brand to be penalized by Google.
"There's no better illustration of this than Google itself, which has taken action against itself five times for violations ranging from buying links to cloaking." -Search Engine Land, 5 Times Google Penalized Itself For Breaking Its Own SEO Rules
Understand your audience using Google Trends
You can use a powerful tool called Google Trends to explore trends and related keywords your audience might be searching. A search for "baseball" shows variations and related terms that people have searched in addition to "baseball". You can see when and where these searches come from, along with search volume for different terms. It also shows interesting trends over time associated with search terms. Understanding related terms to your site's content helps you to create more relevant content for your audience, leading to more people finding your site.
Gather a test audience
Once you have plans for your website written down, show your friends and family to gather feedback. Ask them what they think of your site as a potential visitor. You can also conduct surveys or usability tests. We like to ask your team insightful questions:
What is the current sentiment about the website.
Do customers like the site? Does the staff like the site?
What is missing? What did they expect to find?
What areas of the site are most useful?
What requests come in from the website contact form? Can these be facilitated online?
Do phone calls generate better leads or cause confusion and loss of leads?
What can be build on the site to reduce costs and shorten the sales process?
Hearing what others have to say about your site helps us all relate to your audience better.
Creating Valuable Content
The key to creating a great website is to create the best possible experience for your audience with original and high quality content. If people find your site useful and unique, they may come back again or link to your content on their own websites. This can help attract more people to your site over time.
We create fresh content on your website that is:
Useful and informative: If you're launching a site for a restaurant, you can include the location, hours of operation, contact information, menu and a blog to share upcoming events.
More valuable and useful than other sites: If you write about how to train a dog, make sure your article provides more value or a different perspective than the numerous articles on the web on dog training.
Credible: Show your site's credibility by using original research, citations, links, reviews and testimonials. An author biography or testimonials from real customers can help boost your site's trustworthiness and reputation.
High quality: Your site's content should be unique, specific and high quality. It should not be mass-produced or outsourced on a large number of other sites. Keep in mind that your content should be created primarily to give visitors a good user experience, not to rank well in search engines.
Engaging: Bring color and life to your site by adding images of your products, your team, or yourself. Make sure visitors are not distracted by spelling, stylistic, and factual errors. An excessive amount of ads can also be distracting for visitors. Engage visitors by interacting with them through regular updates, comment boxes, or social media widgets.
Be careful of things that can make visitors not trust your site or leave:
Errors such as broken links or wrong information

Grammar or spelling mistakes

Excessive amount of ads

Spam such as comment or forum spam
"It's about creating high quality content and providing a good experience for your audience!" -Google
We make it easy for your users to quickly and easily navigate your site to find the content they are looking for. We also make it easy for search engines to crawl your site and understand the content that you consider important.
All sites have a home or "root" page. It's usually the most visited page on a site and the starting place of navigation for visitors. Some websites redirect users to a separate website for mobile devices. We create responsive designs to accommodate all devices. This ensures your navigation is consistent and your visitor experience with your brand is familiar. We create brand loyalty in our designs that feel comfortable to the end user.
Most website navigation today starts at a search engine. Visitors click search results and land on pages other than your homepage. We help visitors find other pages on your site by creating a consistent navigation bar.
A good navigation bar calls out important sections of your site, is clear about where it'll take visitors, and follows a logical structure. Intuitive and organized navigational categories include 'Home', 'News', and 'Contact Us.' We'll make your site navigation easy to access and use across all devices.
The code structure of your site semantically informs search engines how to crawl and index your pages.  The Semantic Web informs our best practices for organizing your content for users and search engines. We submit and manage your xml sitemap in the Google Search Console and adhere to the sitemap protocol.
All of this is measured by expertly tracking your website visitors with Google Analytics. We monitor the search console and correlate visitor traffic for measurable results. This means we can see where your visitors come from and everything they do while on your website. If we see your prospects taking wrong turns along the path to becoming leads and sales, we make corrections. Corrections may include changes to the structure, content and navigation of your pages. This is one of the reasons websites need to be properly managed after it is built.
If you're wondering how your site shows up in Google Search, it's important to understand how Google crawls pages on the internet, indexes those pages and serves them as search results using a variety of algorithms and ranking factors. You can learn more on Google's interactive website and watch the How Search Works video with Matt Cutts, the head of Google's webspam team. Also watch, Finding your Site on Google with Jen Lee from the Google Search Quality team.
We directly submit your content to Google using your sitemap xml. We setup your site so that new pages are automatically submitted for indexing. Search results will often appear within hours of publishing.
All of this works because we take the time to accurately describe content on web pages semantically. Machines can understand what we write.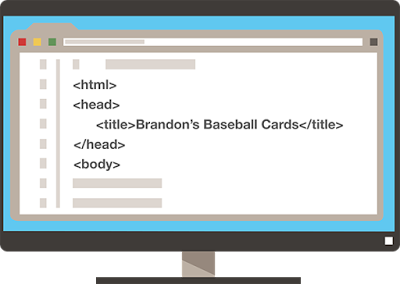 It's time consuming and worthwhile. We write different titles for different pages on your site to help users and search engines know which page would be the most useful for a particular search query.
Meta descriptions are written for each page or post using a tool built into the editor. This allows us to better sculpt the way your search results look in the search engines.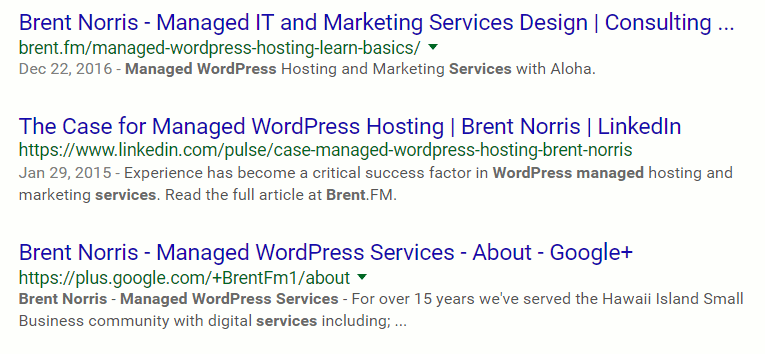 It's important to describe images on your site for both search engines and users. For example, baseball cards on brandonsbaseballcards.com include players' names and teams. But search engines and screen readers for the visually impaired may not be able to read the information if it's an image. Someone searching for a particular card may not find this site, even if it's a very relevant result.
We help search engines and screen readers understand images by including good alt text and adding descriptive text near images. It's not an easy or fast process but it's worth the effort. One way we can tweak the results in in you businesses Knowledge Graph Card displayed by Google.
Two SEO Methods with Very Different Results
White Hat SEO (Best practice) These techniques aim to improve a site by focusing on the visitors instead of on ranking higher. Examples of good, whitehat techniques include creating organic, high-quality content and adding good descriptive tags covered in the previous module. They adhere to Webmaster Guidelines, which your site should follow to rank well and organically in Google Search.
Black hat SEO (A spam email promising great results is usually a hint.)
Illicit techniques that manipulate search engines to try to rank a site higher are considered blackhat techniques that violate our Webmaster Guidelines. Do not pay for links pointing to your site to be placed on the internet with the intent of passing PageRank and manipulating Google Search. These links may be called sponsored links or paid advertising, hidden in HTML, or inserted as optimized anchors in articles, comments, and footers. Learn to avoid such practices as they can appear to Google as malware, especially as Google gets smarter about indexing and organizing the web.
What About Grey-hat SEO? Yes, at times we have tried everything possible to get better search results for live and test pages. Today, the pace of change is simply too fast, in our opinion to garner ROI from such efforts. Search results are now real-time. When problems arise, everyone that's been using questionable techniques all get in line together to submit review requests while traffic to their websites gets cut in half. Changes at Google are happening faster than most so-called, "SEO Professionals" can keep up with. When something goes right, it generates extra revenue. When something goes wrong it's often very expensive.
Lastly, it's not only robots and algorithms indexing the web.
Human factoring is a large part of the way algorithms are built and implemented and directly affects search results.  Also check out  Google's Search Engine Optimization Starter Guide and Search Engine Optimization articles for detailed guidance. Ray Kurzweil's impact at Google is showing up in the Google Brain as the pace of change continues to double about every 18 months.
---
We're monitoring, "RankBrain" for ways this will impact website owners.
---
Confirmed in patents, "RankBrain is essentially an algorithm learning artificial intelligence machine. It looks at more than searchers' words. RankBrain works to determine searcher intent. It does this by examining syntax, colloquial language, and patterns of meaning in past searches. It actually discerns what you mean, rather than what you type. " –Plan Left  Also read Bloomberg's take on Google AI
More Webmaster Resources from Google
Google Webmasters Google+ and Twitter and YouTube 
Join the webmaster community and stay up-to-date with our announcements, events, tips, and resources.
Webmaster Central Blog
Get the latest information from Google's Webmaster Central blog including updates to Google Search, new Search Console features, and more.
Webmaster Help Forum
Post questions about your site's issues and find tips to create high quality sites from the product forum for webmasters.
---
Thanks for taking time to learn more about Google's Webmaster Guidelines. We'd love to work with you and build a great website for your online business. Let's have a conversation sometime about your website.