Learn the Basics of Managed WordPress Hosting
by Brent Norris
Related: Managed WordPress Services
Background
As web standards evolve, operating systems and web browsers evolve. Websites must also evolve. Adaptive engineering capable of following standards simply costs less to own and operate. The key is to use web standards to reduce your total cost of ownership (TCO). WordPress is standards-compliant out of the box. W3C standards help your website work well on just about any device with a web browser eg; phones, laptops, desktops, smart-cars and more.
Content management systems (CMS) provide an easy way for you to manage assets and update your web pages. Regular website updates are important to provide value to search engines. Fairly simple tasks like adding a post to announce a sales promotion are made much easier with a CMS like WordPress. WordPress currently powers around 25% of the web. Some of these sites are free as in WordPress.COM. Some are self-hosted as in WordPress.ORG. Self-hosted in the best option for business owners and writers who need more freedom over their site customization.
We recommend first-time website hobbyists start at WordPress.com. When it's time to start building your online business eg; selling a product or you need to communicate a professional brand, it's time to start using the self-hosted version. This can be installed and hosted by a web professional. The idea is that a small Business owner can easily move their site content from a WordPress.com to a self-hosted version of WordPress for their growing online business platform. Everything we do is scalable so startups have low costs, easy entry and unlimited growth.
Self-hosting means installing WordPress on a server (see: web hosting providers). It's essentially the same code. It's free, like freedom so you can install it anywhere and modify as you wish under an open source license(see: WordPress license). Most shared web hosts provide a one-click installer that makes setup as easy as filling out a form. The form and process are usually found a separate control panel (see: Plesk | Cpanel). The same control panel provides for the setup and management of email accounts, security, performance, file transfers, ssl etc. Spending time in these dashboards can be overwhelming but necessary to compete for search results. Tasks associated with managing the web and email server and your WordPress website normally require http://brentnorris.com 3-10 hours per month. Your business goals will determine your management needs and the needs of your brand.
Visitors expect your site to work -all the time.
The backend of your website is reflected in your frontend which affects the perception of your brand to your customers.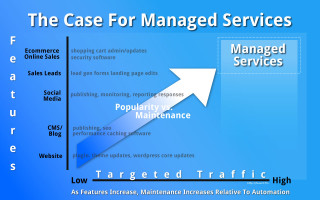 Number one quality issue is security. Ignore security and you could infect your visitors computers with malware. Google will most likely block your search results. Security vulnerabilities are inevitable and manageable.
Visitors expect your site to be quick and responsive on any device.
The performance of your pages is another signal sent to Google in determining how well a page ranks in searches. Management tools for monitoring and reporting help to keep your site secure and loading quickly.
Visitor expectations change over time.
Your visitors probably use some large websites like social media networks with advanced features. Television has a large impact on engagement and visitor satisfaction as they expect your website to be easy, like using a remote control. Your online brand must adapt and the simplest form of adaptation means keeping everything working while successfully communicating your brand eg; convert leads to sales. Good design and useful features can be discovered and installed inside the WordPress dashboard (see: themes | plugins).
Who builds WordPress?
A large decentralized team contributes to the WordPress project. The core code is continually improved and updated about four times per year. A major update and new default theme become available once per year. Developers contributing to the WordPress core may also develop  plugins for WordPress. Plugins add functionality to your WordPress code. Designers and developers also create themes to make great looking and highly functional websites. Recap so far: Easy to install. Proper configuration requires some skills and anywhere from one to ten hours or more.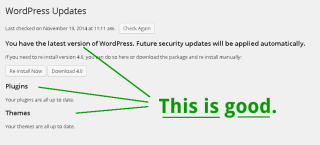 Developers and designers upload plugin and theme updates to the WordPress repository. Update notifications in your WordPress dashboard alert you to new updates and a few button clicks are all that's needed to perform updates. WordPress provides an easy way to keep everything working. Your brand, content, lead generation and other website features keep performing safely and securely, kinda.
The Problem: Human Error
Designers and developers often speak different languages. Quality varies wildly. WordPress plugins and themes rely on transparency in the market to sort out the most useful or best looking. It's an open market and not limited to the WordPress repo. Hundreds (thousands by now?) of other websites sell plugins and themes. All updates are not compatible. There are blurred lines of communication between developers and designers. Most follow WordPress core updates and best practices to future-proof their code while adding features and bug fixes. Plugin and theme releases incongruent. A small error can create a large impact especially if you rely on your website for leads or sales. Knowing when to update each of your plugins and theme(s) is critical to the performance of your website. Maintaining a spreadsheet of plugins, themes, their creators, issues and relationships may be helpful to web professionals serving multiple clients (<50?).
Knowing which plugins and themes to install is an issue. For example, we like to curate plugins based my experience with the designers and developers, their commitment to their projects and community input. Abandoned or insecure plugins and themes you've purchased can ultimately add a lot of cost of ownership. Compatibility issues occur with even the best creators.
For small websites with less than http://brentnorris.com plugins using the latest default WordPress theme, everything is really smooth. This type of a setup could easily be put on auto-pilot, so to speak with minimal implications. However great this may sound initially, it's much more common for a business owner to seek something better than the default theme and plugins.

Competition, branding and added security requirements like HIPAA requirements are just a few reasons why you need to actively manage your website. We all know what happens when we fail to manage our personal computer security. Slowdowns, viruses and malware are so common many pc owners abandon their machines after a couple years. Online this is completely inappropriate. Especially when your brand online is your connection to customers. Not only could they be offended but search engines will simply stop sending traffic to your site. A Google webmaster tools account can alert you to some issues before they become public knowledge. Other tools provide alerts like Wordfence security.
The Solution: Curated Updates and Managed WordPress Services
When a theme designer releases updates to their theme it's important to read the release notes and check the community forums to be sure other site owners are having a great experience with the new theme or plugin. Testing updates on staging websites can help ensure everything works well together.
When it comes to plugin and theme updates, developer and designer track records and your webmaster's experience can be your most valuable asset. Curated or "managed" updates also give you the ability to scale your hosting and services matrix in a way that grows as your business grows. Paying for a junior do-it-all IT person was the only option only a few years ago. Today we can automate and scale services for our clients that negates the need for multiple roles thereby increasing the quality of service you receive in several areas. Soon it will be possible to hire the very best talent to perform specific tasks at affordable prices.
Marketing Message
You can get the quality and experience you need for managed WordPress hosting and marketing services without hiring additional part-time or full-time staff. Let us show you how. Contact us for an appointment. We'll explain everything we do for our clients and if the timing is right for you, get you started on a growth pattern for your businesses today.
Also see:
https://make.wordpress.org/core/
https://github.com/wordpress/wordpress
https://wordpress.tv/